Because giving back means so much.
Since our founding in 1935, we have held to one important belief – helping the families of our community. This extends far beyond assisting in times of sorrow. It means continued involvement.
Visit our Event Calendar page for more information and schedule of community events.
VETERANS MEMORIAL SERVICE
We are thankful for those who serve to protect our freedom. We believe it is important to honor veterans past and present. This is why we have conducted a Veterans Memorial Service every year, since 1968.  Held at our St. Charles Memorial Gardens on the Sunday of Memorial Weekend this moving and patriotic day is an important event attended by many every year. We invite you to join us this year with your family as we honor these brave men and women.
Lisa Baue, 3rd Generation & Bob Reed, Chairman of the St. Charles County Memorial Commission of Missouri
John Baue Devaney, 4th Generation speaking at the Veterans' Memorial Service 2019.
Arthur C. Baue was instrumental in bringing the Salvation Army to the region in 1958. Baue was founded on legacy of giving back to the community and helping those who need it the most. We are much more than a business, we are a part of this great community and will continue to support it for residents and future generations.
Continuing the commitment to the Salvation Army Lisa Baue has served on the board.  Today her son, John Baue Devaney, is currently a board member for the organization and continues to support their mission of helping families in the community.
Lisa Baue, 3rd Generation & Former Major Laura Key
John Baue Devaney, 4th Generation and Lisa Baue, 3rd Generation volunteering for the Salvation Army during the Holiday Season.
ST. CHARLES ECONOMIC DEVELOPMENT CENTER
Building a strong community takes the time and commitment of the family owned businesses that reside in St. Charles County. That's why Lisa Baue and past generations have been active community members and leaders. Lisa Baue served on the board of the St. Charles Economic Development Center for many years to support the overall growth of the area for all of the residents and future generations.
Lisa Baue, 3rd Generation & Greg Prestemon, Former President & CEO St. Charles Economic Development Center
DON'T DRINK AND DRIVE PROGRAM
Baue offers a creative approach to bringing this important message to the community. In cooperation with area fire departments, police, EMS personnel and schools, Baue plays a key role in local pre-prom presentation and demonstration programs. These reenactments demonstrate the sometimes gruesome reality of a drunk driving accident – with a Baue hearse and staff on the scene to "remove" the student "killed" by a drunk driver, played by a student volunteer.
SILVER & GOLD SENIOR SOCIAL CLUB
PEACE OFFICERS CANDLELIGHT MEMORIAL
Since 1992 we have held this special memorial event for the men and women of law enforcement who serve our community and put their lives on the line to keep us safe. Sponsored with the Peace Officers Memorial Service Committee and held at Saint Charles Memorial Gardens, we feel this is an important acknowledgement of these brave citizens and all they risk for our safety.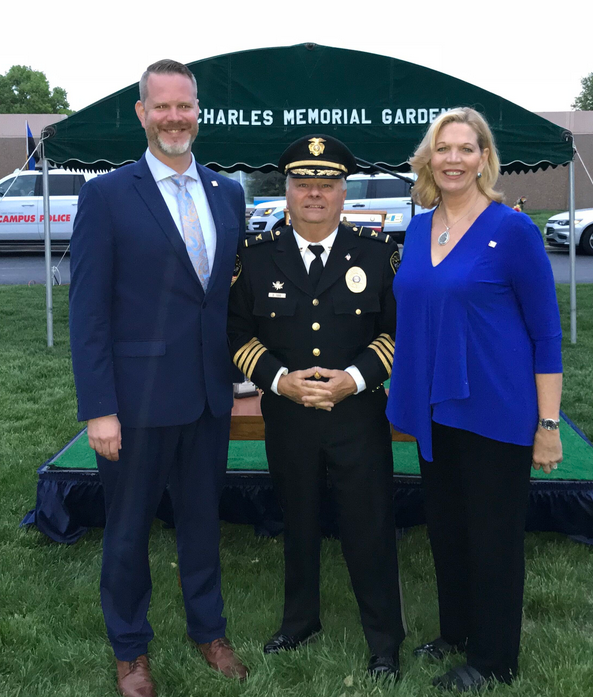 John Baue Devaney, 4th Generation with former Police Chief David Todd and Lisa Baue, 3rd Generation.
Held every year in June this event helps transition into the new season of Spring and Summer with a symbolic remembrance of a lost loved one.
Each program includes the reading of names and an educational talk regarding the process of grief. Families will have an opportunity to participate in the planting of wildflower seeds in memory of their loved one. This tribute is designed to leave a colorful and lasting memorial in a wildflower garden area at our cemetery for families to contribute for years to come. Families will receive a biodegradable card to write a memory on that has wildflowers embedded in them. During the ceremony, families can honor their loved ones by writing their memories on this card and placing their card into a memorial planter.
HOLIDAY REMEMBRANCE PROGRAM
Held every year since 1987, Baue has provided a free holiday grief program to the community. "A Holiday Remembrance" is a special program presented by Baue family and staff which addresses the difficult emotions that arise this time of year and explores meaningful ways to process these feelings.
We encourage you to attend this holiday program with your family to honor the life of a loved one.
Each program includes heartfelt moments and ends with a healing memorial candle lighting ceremony.
COMMUNITY EDUCATION PROGRAMS
Many people have questions about the subject of death, which is why we bring our education programs to the community.
Continuing Care Program
Baue's Grief Services staff teaches a series of education and support classes. Programs are available free of charge and are held at our Family and Community Center at 608 Jefferson Street, next door to our St. Charles Funeral Home. To see the current class schedule, click here.
Annual Grief Education Seminars
Every October, Baue sponsors a Community Seminar presented by noted author, educator and grief counselor, Alan D. Wolfelt, Ph.D. Dr. Wolfelt serves as the Director of the Center for Loss and Life Transition in Fort Collins, Colorado.
Hospice Teleconference
Each Spring, Baue locally hosts the Hospice Foundation of America's Living with Grief series educational conference. The teleconference presenters are always respected experts. This program is always well attended by professionals from the St. Louis metro area. C.E.U.'s are offered for many professional disciplines.
Community Fairs
Baue appears at school, health, and senior fairs and other community events throughout the year to distribute materials on community and grief services, funeral and advance planning information.
There are also three free-standing tents and several water coolers available for groups to use at picnics, etc. The tents and coolers, complete with Baue logo, are offered at no charge and on an as-available basis.
Funeral Home Tours
Tours of the funeral home are available to any group for educational purposes. These tours can encourage open discussions on death-related topics and spirituality. Groups of any age are welcome to schedule a tour. These tours can be especially valuable experiences for teens. Many church youth groups and schools schedule an annual tour for a specific grade.
Books, Videos, and Brochures
We offer complete grief resource lending libraries in our St. Charles and Cave Springs funeral homes.
Sports Team Sponsorships
Baue is proud to annually sponsor a number of youth and adult sports teams throughout the St. Louis and St. Charles region.
Have the Talk of a Lifetime
A nationwide campaign designed to get families talking about their lives, interests and wishes. You can have the talk of a lifetime with anyone you hold dear — your parents, grandparents, aunts and uncles, a spouse. It can happen anywhere you and your loved one are most comfortable — over a meal, at home, on a walk, while playing a game. The talk can be between you and your loved one, or you could include others, like family or friends. Your conversation can take place at any time — not just at the end of life. Contact us or click here to learn more.
View Calendar
Learn More About Community Events
You and your family are invited to attend our annual events, ongoing support groups, grief classes and more. We encourage you to view the calendar to find out about the next event we are sponsoring or conducting.
View Calendar