I often get many questions regarding children and funerals.
"Should they come to the visitation?"
"Is it appropriate for children to view the deceased?"
"What words do we use to talk about death?"
I recently had to have all these discussions with my own children when their Papa died 2 months ago. They are 8 and 11 and were very close to their Papa, and I found myself asking the same questions. In an effort to protect our children from the pain of loss we often do them a disservice by not including them in the process. Children of all ages have the ability to love deeply and with that love they also have the ability to grieve deeply. Knowing they have the ability to grieve means that as parents and caregivers we have the equal responsibility to give them a chance to mourn outwardly surrounded by family and friends.
Children should be educated on what to expect and given choices when it comes to participation in funeral and memorial services. Given the option to view the deceased, most children will do so without fear, but never force them. It is ok if they choose not to view but instead visit with family and friends who are present. Let them know what will be happening as the visitation and services unfold. This will allow them to understand their surroundings and be prepared so they know what their role is. Depending on their age, younger ones might need a break and need to leave early. Be sure to have a family member or friend that is willing to be with them when they need a break.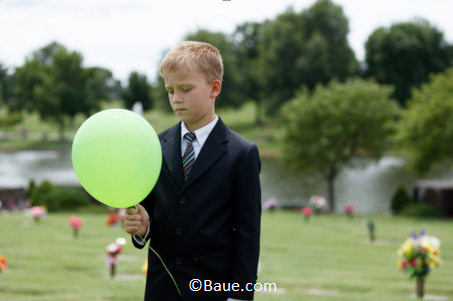 Involve them and give them options to be part of the funeral services.
Write letters or drawings to go into the casket with their loved one.
Does your child have a song they would like played and the visitation or service that reminds them of their loved one?
Would they like to share a special memory or say something at the funeral or graveside?
What items or pictures would they like displayed at the visitation or memorial services?
When children are included in the funeral and planning they can come up with some amazing ideas. My son wanted to do a balloon release at the graveside and he also left his favorite St. Louis Cardinal's hat in the casket with his Papa. These were things that as a mom I knew would be painful, sad, and heartbreaking for us all however they also brought us all great comfort. Saying goodbye is never easy but their involvement can help as a positive first stepping stone in their grief journey.
–Director of the Center for Hope & Healing, Kelly Karavousanos, LPC, CT
 KellyK@CHHCounseling.com 636-328-0878